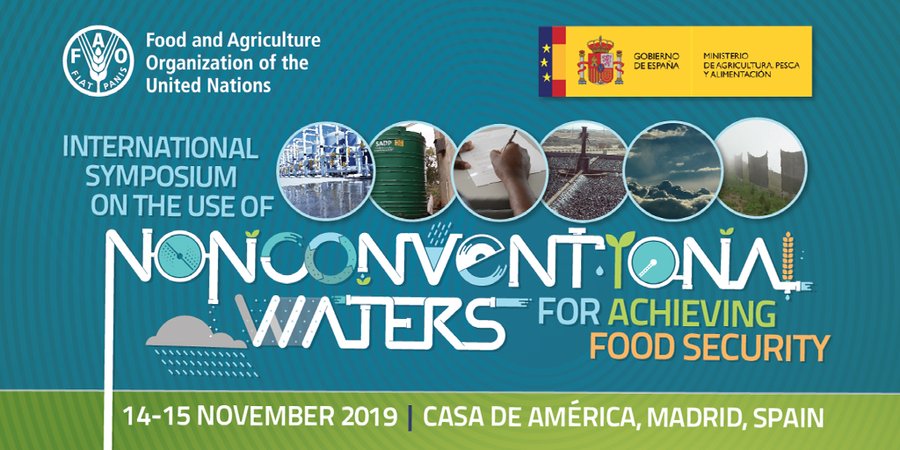 14-15 November 2019
. Madrid.
International Symposium on the use of Non-Conventional Waters to achieve Food Security
The global water community at large supports efforts in water-scarce countries and communities to go beyond the use of conventional water resources and plan for non conventional water supplies. This support stems from the aim to narrow the water demand-supply gap; and to achieve specifically the Sustainable Development Goals (SDG) 2 and 6, calling respectively, for achieving zero hunger and for achieving clean water and sanitation for all people by the year 2030.
Attention is shifting to finding innovative solutions such as the use of non conventional water resources including reclaimed wastewater, desalination, fog harvesting, and their associated technologies. 

Non conventional water use requires changes in traditional water allocation frameworks, funding structures, water-quality standard-setting, regulatory frameworks, and institutional mandates. It requires effective and coordinated governance at all levels with integrated management and consistent policies aimed at economic efficiency, social equity, and environmental sustainability. Water allocation plans should meet the needs of multiple water users while engaging stakeholders through a participatory process.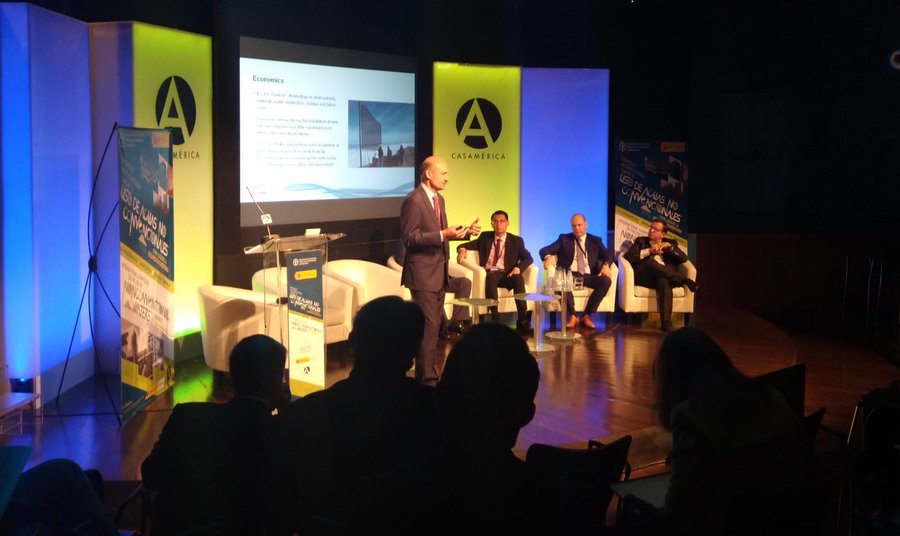 Finance, Policy and Technology:
Mr Claudio Bacigalupi

, Head of Water Sector, International Cooperation and Development Unit – Environment, Natural Resources, Water, European Commission (EC)

Ms Heba Ahmed,

Water Resources and Irrigation Specialist, World Bank

Mr Oriol Bellot,

Head of Projects Department, Suez Agriculture

Ms Valeria Silvestri,

Water Management and Rural Infrastructure Expert, International Fund for Agriculture Development, IFAD
NON CONVENTIONAL WATER & FOOD SECURITY - "The Untapped opportunities"
Ms Aslihan Kerc

, Chair, Global Wastewater Initiative, Turkish Water Institute (SUEN)

Mr Wang Yaosheng,

Professor, Institute of Environment and Sustainable Development in Agriculture, Chinese Academy of Agricultural Science (CAAS)

Mr Ahmed Uleimat,

ASG for Labs and Quality Affairs, Water Authority, Ministry of Water and Irrigation of Jordan

Ms Akissa Bahri

, Former Director, African Water Facility (AWF), Tunisia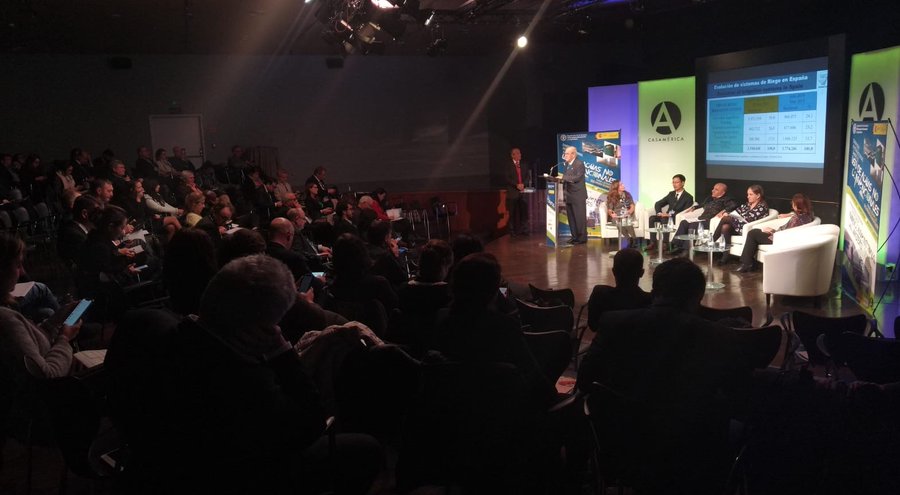 DESALINATION -  "Advancing desalination: reducing energy consumption and environmental footprint"
Mr Zaidan AbuZuhry

, WASH Officer, Seawater Desalination Plant Project, UNICEF

Mr Antonio Borrero

, Director, Africa and Europe, Water Deparment, Abengoa, Spain

Mr Nicholas Sloane

, Director, Resolve Marine Group, Cape Town, South Africa

Mr Nikolay Voutchkov,

DTRI and Saline Water Conversion Cooperation, Saudi Arabia

Mr Domingo Zarzo Martínez

, Technical and Innovation Manager, SACYR Water Services, Spain

Ms Dionysia Lyra

, International Centre on Biosaline Agriculture (ICBA), United Arab Emirates
FINANCING - "Investments and financial instruments in a circular economy"
Mr Francesc Hernández

, Professor in Water Economics, University of Valencia

Mr Octavi Quintana Trias

, Director, Partnership for Research and Innovation in the Mediterranean Area, PRIMA

Ms Valeria Silvestri

, Senior Water Management and Rural Infrastructure Expert, International Fund For Agriculture Development (IFAD)

Ms Heba Ahmed

, Water Resources and Irrigation Specialist, World Bank

Mr Carlos Cosín

, President, International Desalination Association (IDA)/ CEO, Almar Water Solutions.